Shields River Lodge has recently informed us that they won't be operating in 2023. 
Please call our Travel Experts (800-669-3474) for alternate recommendations.
Shields River Lodge, located in the beautiful Shields valley in Southcentral Montana just under an hour from Bozeman. Sitting on 283 acres and one mile of Shields River front access, breathtaking cannot describe the views of the nearby Crazy, Bridger and Absaroka Mountain ranges surrounding the lodge.
The Shields River is located a short ATV or walk from the lodge and borders the eastern edge of the property. We feel this is one of Montana's best kept secrets and offers guests great action on Cutthroat, rainbows and browns in a small intimate atmosphere.
Along with walk and wade fishing on the Shields River, we fish the upper and lower Yellowstone River as well as the Madison, Gallatin, and Boulder rivers as well as some private waters around Bozeman and the lodge.
Shields River Lodge knows that there is more to a great fishing trip, than the fishing. While the trout are the reason you are there, what happens when you return from a day spent on the water solidifies any great Fly Fishing adventure. Shields River Lodge has you covered here. The Lodge is an elegant classic western log building that will give you all the comforts of home and then some. With 30' vaulted ceiling and a giant river rock fireplace, you will rest comfortably during your stay and the crew will take care of you from the moment you arrive.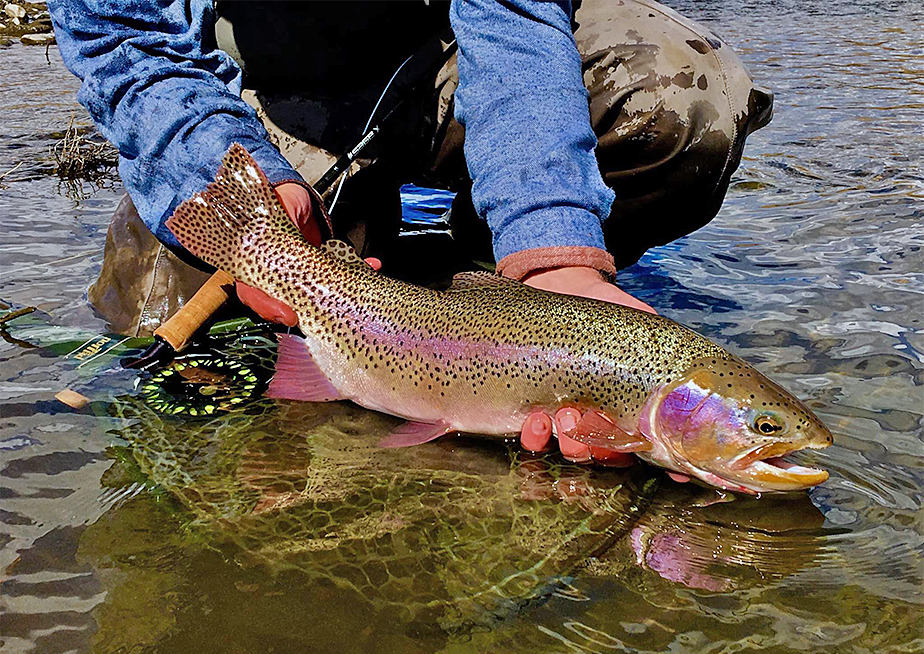 2022 Reservations & Rates
Shields River Lodge has recently informed us that they won't be opening in 2022 and possibly the 2023 season as well.  Please call our Travel Experts at 800-669-3474 for alternate recommendations.
Inclusions
Included in your trip to Shields River Lodge are meals, lodging, guide service, rods, reels, flies, leaders, terminal tackle, and transportation to and from rivers, water, soft drinks, beer and wine served at dinner. Shields River Lodge guides carry with them all needed tackle and a complete selection of the necessary flies needed for the day. Guide service is one guide per each 2 anglers, unless otherwise specified in your reservation confirmation.
Non-Inclusions
Not included in your Shields River Lodge angling package are gratuities, fishing licenses, hard liquor (though with advance notice the lodge can bring in a bottle of the requested spirits and mixer and have them ready for the guest), transportation to and from the Bozeman, Montana, airport and 8% Montana Sales Tax.
Travel Insurance
The Fly Shop® is not in the insurance business, but we recommend Travel Guard (AIG) and Global Rescue (IMG) coverage as a service with a desire to see your best interests protected. It is impossible to know when an unfortunate situation (loss of luggage, fly rods, illness in the family, or an accident) may occur. However, such things can and do happen, and this insurance can provide a means of recourse against non-refundable financial losses.

• Travel Insurance Information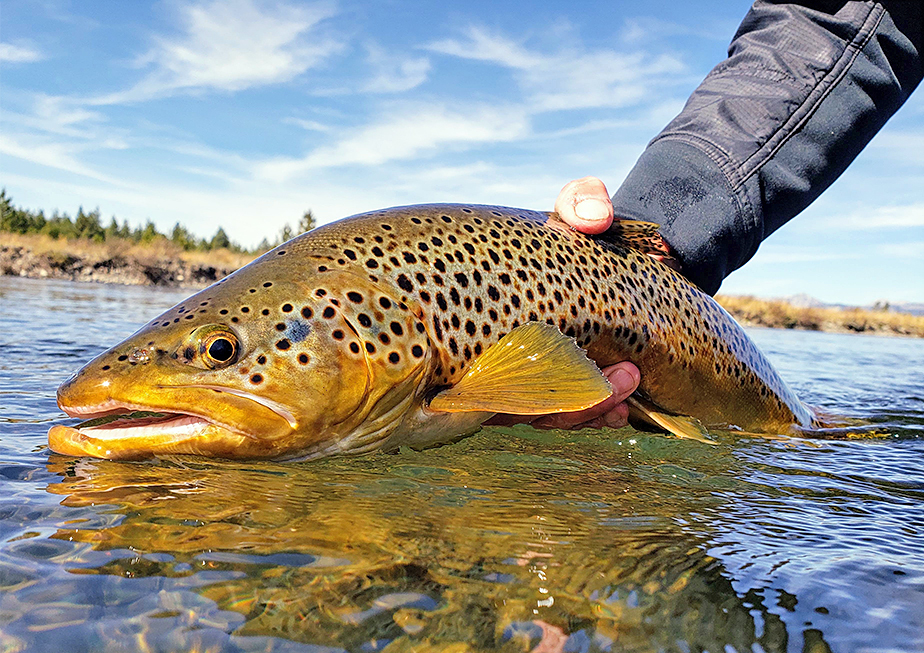 Seasons at Shields River Lodge
March - May
Springtime is a great time to be fly fishing in Montana. The rivers are less crowded, the fish are hungry from a long winter fast, and the bugs are starting to hatch as the days get longer and the water temperatures start to warm. Midges start hatching on warm sunny afternoons and once the river hits that magic lower 40's degrees mark, matched with overcast skies the first big hatches of the year happen, Blue Wing Olives (BWO's). This is the first hatch where fish start coming up consistently and in Montana can happen anytime from March to the beginning of May. The other magical hatch in Montana that has swarms of bugs that blanket the rivers typically before run off in early May is the Mother's Day Caddis hatch. It is
Read More
something to see during its peak, the sheer number of bugs in the air is astonishing and can be overwhelming at times. Once you see this hatch, you will view all others differently. Montana weather can be unpredictable in the spring and you just have to be prepared for anything and everything. But those not afraid to endure a little "weather" the payoffs can be well worth the effort.

June
Depending on the year, June is typically run off in Montana. Many freestone rivers become unfishable for a couple weeks and are running high and off colored during this time. That doesn't mean throw in the towel for June, there is a hatch that lots of people plan trips around and can keep you coming back for more year after year. We are talking about Pteronarcys Californica, The Salmon Fly (Giant Stonefly). This hatch typically takes place when the water is still high and dropping from Mid-June into July on the local rivers. Because these big freestone rivers vary year to year, hitting it just right can prove difficult. Nymphing big stonefly nymphs is always productive, especially at this time of year because even though the adult bugs aren't on the water, they are stirring on the bottom, waiting for their temperature cue to tell them to crawl ashore and morph into these big orange flying bombers. If you can get in on this hatch and be there at the right time, it is something to see. The sheer size of this bug brings all the big fish up to the surface for a chance to gorge themselves on this large flying feast. Both the Yellowstone and Madison have healthy, annual salmon fly hatches that every serious dry fly enthusiast should see.

July
By July the weather has stabilized and the rivers are in great shape and running clear. This is the most popular time to visit Montana. Hatches start to be more consistent. PMD's, Golden Stones, caddis and terrestrials are the bugs of choice for Montana trout depending on the river. This is the most reliable and consistent time to fish dries and an enjoyable time to be on the river and cruising the countryside.

August
August is hopper season in Montana. Terrestrials like Crickets, beetles, ants and of course grasshoppers can be put on almost any time and typically produce consistent results. During certain years fish are really keying in on these big floating protein-packed meals and drifting a big puffy attractor along the grassy banks is a great way to spend the day on a drift boat. Early and late caddis hatches produce fish for those that get up early and stay late. August can be hot and dry. Bring lots of sunscreen and lip balm.

September/October
Fall is one of our favorite and often overlooked times to fish. The crowds have left for the summer, days are starting to shorten and the fish feel the pressure to fatten up before a long Montana winter. Hopper fishing continues into September, caddis hatches are still going on and as the days and waters cool; the BWO's come back, especially on over cast days. Once again late September and especially October weather can be notoriously unpredictable and being prepared for anything is once again the main focus for success. Sometimes some of the best BWO blanket hatches occur on cool, gray overcast days surrounding these big storms. Big Browns are on the move and in peak condition; this is the best time to hunt for one of these big boys!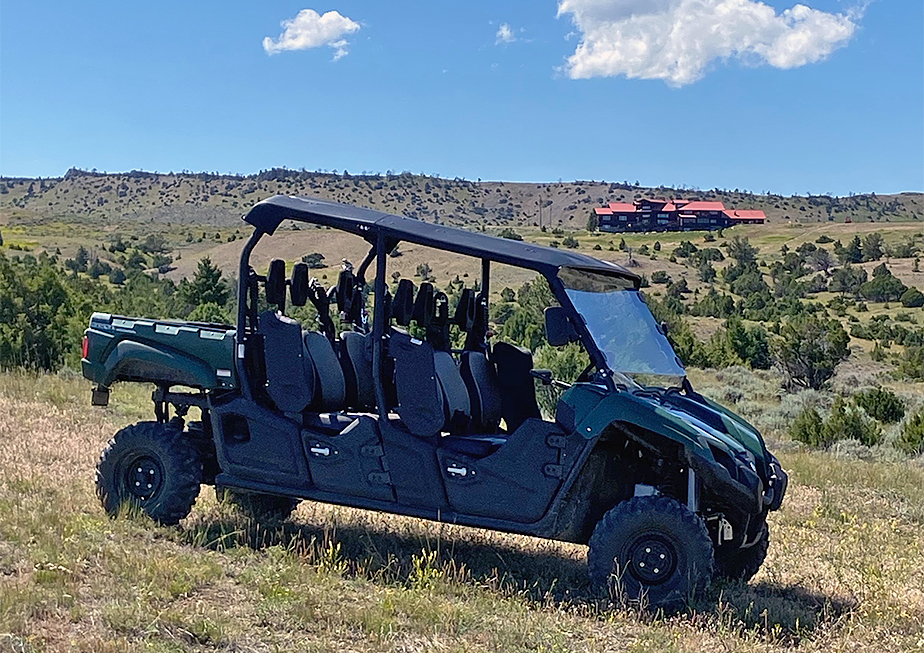 Getting to Shields River Lodge
Shields River Lodge is located just outside the small town of Clyde Park, Montana. It is a scenic 50-minute drive from the Bozeman Yellowstone International Airport (airport code BZN.) BZN hosts 8 airlines with non-stop flights to and from 21 US destinations, and connections all over the world. It is best to rent a car at the Bozeman airport and drive to the lodge. Guests can arrive at any time after 3pm, preferably before 6pm, as dinner is normally served around 7:00pm.
Read More
Airport Shuttles
Shuttles can be arranged from BZN (Bozeman) airport to the lodge through private companies for an additional cost.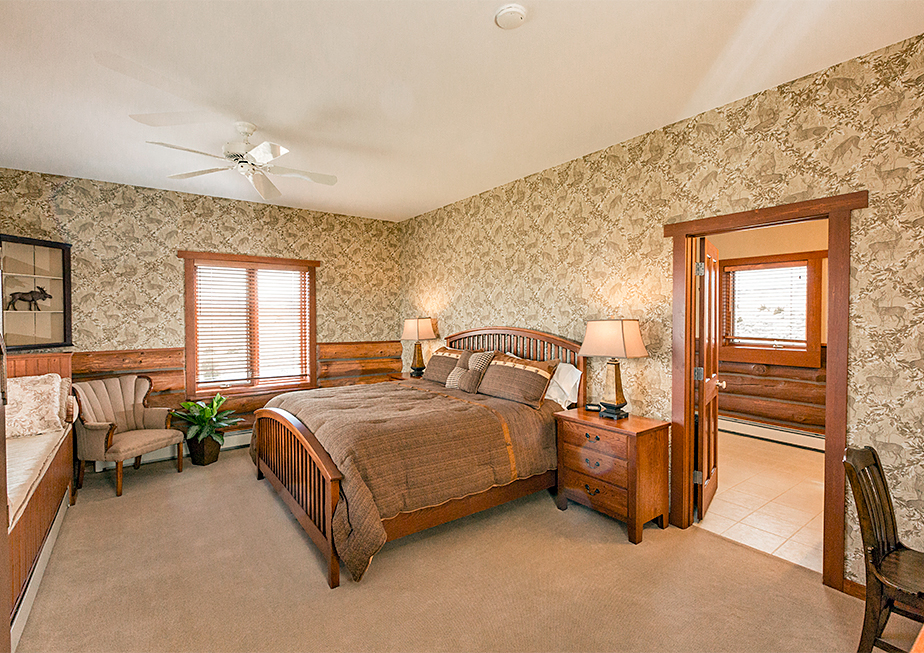 Lodging at Shields River Lodge
The Shields River Lodge has 9 luxurious rooms with ensuite baths, 20 seat private dining room, professional yoga and massage available onsite, beautiful exposed Montana logs, a spacious common area room with 30′ ceilings and expansive decks to take in the dramatic views.

The lodge also offers miles of marked hiking trails throughout our property, a well equipped gym for those of you who want to keep active and enjoy a beautiful after dinner stroll. You would be hard pressed to beat the 360° views of three majestic mountain ranges, and enjoy awe inspiring Montana starlit nights around our inviting fire pit
Read More
Luxury
Distinctive, tastefully decorated and well-appointed guest rooms with king size beds, comfortable seating area and desks to write postcards home about the day's biggest catch! Relax and recharge in your spacious, well-stocked modern ensuite bathroom with soaking tubs and separate walk-in-showers. Enjoy a glass of wine, a local craft beer or a morning cup of coffee on your patio or window box seating overlooking expansive views of the Shields Valley, Absaroka Mountain Range and the Crazy Mountains.

Premier
Comfortable, tastefully decorated, well sized rooms with king size beds. After a day out on the river, enjoy a good book from your ample seating area, a hot shower in your ensuite bathroom or catch up on work or jot down notes from the day at your desk. Be ready to take on the day by greeting the sun from your balcony.

Traditional
Cozy, tastefully decorated rooms with king sized bed and ensuite bathrooms. Comfortable and cozy seating area, writing desks and everything you need to make your stay comfortable and unforgettable.

Dining
Executive Chef Donald MacArthur's love of food began early while growing up on an organic farm in Pennsylvania where he learned that quality ingredients are the key to any meal that is meant to be truly remarkable. Working behind the fish counter at famed purveyor Dean and DeLuca led to a passion for cooking anything from the sea. Chef Don then attended New York's acclaimed French Culinary Institute before honing his craft at Esca, New York's venerable Italian seafood restaurant.

The call of the west proved too much to resist and Chef Don found himself sourcing not only the world's best seafood but also meat and game as the Executive Chef at award winning restaurants in Montana and Colorado. At the Shields River Lodge, Chef Don leads an extraordinary team that continues to source the finest ingredients and prepares them with subtle nuance and expert technique. After a memorable day on the water, enjoy a locally brewed craft beer, a specially selected wine and a premium cigar to share the biggest fish tales of the day.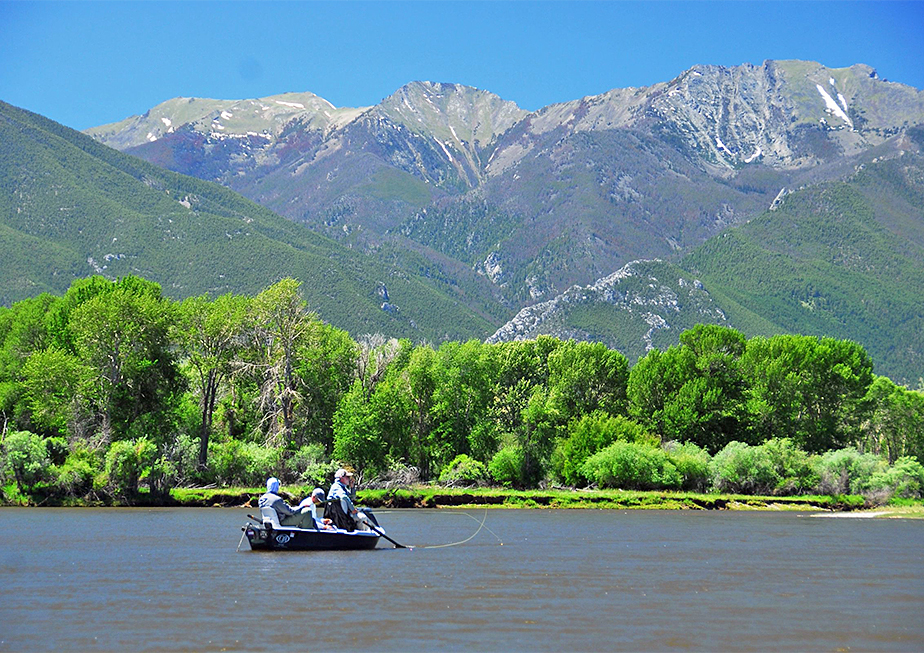 Fishing at Shields River Lodge
Shields River
The Shields River flows over 65 miles and is a tributary of the Yellowstone River. The headwaters of the Shields River originate in the Crazy Mountains within the Gallatin National Forest in Montana. It flows west, then south between the Bridger Mountain Range to the west and the Crazy Mountains to the east, past the towns of Wilsall and Clyde Park. It joins the Yellowstone River approximately 13 miles from Shields River Lodge and 7 miles northeast of Livingston. This is home water and a walk and wade small water gem. You can hit it for the day with one of our guides or if you haven't had enough fishing after a full day on the water, you can get your fill with a short walk from the lodge after dinner.
Read More
Yellowstone River
The Yellowstone is the longest free flowing river in the lower 48. It originates in Yellowstone National Park and flows north then northeast for almost 700 miles and offers almost 200 miles of prime wild trout habitat. The Yellowstone has so much to offer and is the classic Montana float experience. There are so many different floating options, you can fish the "Stone" for your entire stay and always fish a new section of river and each one is unique and different. One thing all these sections have in common is lots of trout, a variety of fishing, beautiful scenery and there is always a shot at a big trout. The Yellowstone fishes best from a boat floating big dries or throwing streamers but there are some opportunities to wade if this is what suits your fishing style. The upper river in the park and just outside the park is mostly cutthroat trout and as you move down river towards Livingston, browns and rainbows become the dominant trout you will be catching and the average size increases. Below Livingston, numbers on this section are lower, but this is where some really big brown trout are hooked and sometimes landed every season.

Madison River
The Madison is perhaps the most famous of Montana's Rivers has been described as the prefect river to fly fish. It has everything you could possibly ask for in a river – wade or float, pocket water to classic riffle, run, pool, buckets, undercut banks, dry flies, streamer and nymphing; extraordinary variety…the Madison has it all. From its origin at the confluence of the Firehole and Gibbon Rivers in Yellowstone National Park if flows for almost 200 miles to connect with the Gallatin and Jefferson rivers to form the Missouri. Within that distance, the river shows a lot of different faces. Slow and meandering in the park, it flows into and out of Hebgen and Quake lakes just outside of the Park border. From here downstream is the classic 50 mile riffle and is one of the most popular sections of the river and for good reason, it is lovely to fish and the trout are plentiful. Below Ennis Lake, the river enters in Bear Trap Canyon and is pretty inaccessible except at the top and bottom of the canyon. There is some great pocket water fishing in this section but can be tricky to wade and is more often floated by whitewater rafts than fishing boats. Once the Madison emerges from the Canyon the flows slow down, and the river widens. This section is called the Lower Madison and offers some great float fishing as well as options to walk and wade. Trout numbers are lower than those above Ennis, and during mid-summer this section has a tendency to warm up, but it is also the place where you run into bruiser browns if you want to go after them. Throughout the river, fish average 12 - 15" and there is always bigger fish lurking around every bend.

Gallatin River
The Gallatin like its other famous Montana blue ribbon cousins begins its journey at Gallatin Lake in Yellowstone National Park and flows north for 115 miles before joining the Madison and Jefferson at Three Forks Montana to form the Missouri. It is a classic freestone river and the upper portion of its clear waters flow through very mountainous country with steep walls towering above the river. There are not many rivers prettier or more enjoyable to fish, then this upper section. This is where many of the scenes from A River Runs Through It were filmed and you understand why as there is a certain energy you feel while driving up the "canyon" along the river. Although not know for large fish there are plenty of them and it has some nice hatches and fishing attractor patterns produces effective results. If you like wade fishing in clear cold water with a beautiful backdrop of timber covered mountains, you will want to spend a day on the upper Gallatin. Below the canyon, the Gallatin's gradient slows down and the river flattens out and starts to meander a little more. Fishing amongst the towering cottonwoods, the river braids into smaller, more fishable channels and the river exposes its rocky gravel bars. The fishing is similar to the canyon but there are some bigger fish that reside in this lower valley section.

A Typical Day @ Shields River Lodge
8:00 a.m. Breakfast is served in the Main Lodge
8:30 a.m. Meet with your Guide, pick up lunches off to the river.
9:30 a.m. Fishing
1:30 p.m. Riverside Lunch
5:30 p.m. Take out, return to the Lodge
7:00 p.m. Cocktails
7:30 p.m. Dinner is served

Full Fishing Days
Every day, each pair of fishermen will have the opportunity to experience a different fishery, or return to their favorite spot. Anglers will be targeting browns, rainbows, cutthroats and cut-bows. There are literally dozens of places to experience with Shields River Lodge, and Greg Bricker and his guides have their finger on the pulse of the best opportunities, taking into account hatches, weather, angler ability and fishing taste. In most cases you will formulate a plan in the evening after dinner for the next morning, but weather and other conditions could affect that plan.

Guides
Greg Bricker runs the fishing program at Shields River Lodge and we have complete faith he and his guide team will do their very best to make sure you have a great trip and will put you on fish each and every day. The guide team is passionate, experienced and they work hard day in and day out to create a memorable experience for you. With almost 30 years of experience fishing in the area and nearly 20 years guiding throughout Southcentral Montana, Greg's familiarity of the area is second to none. He has an intimate knowledge of the rivers, hatches, seasons and he knows where to find the trout. Why do we have so much faith in Greg and his ability to run a solid fishing program? Well, he has been doing it for us at Patagonian BaseCamp one of our most popular Chile programs for over 10 years.
What Makes This Destination Special and Unique?
• Montana encompasses a huge area and there are endless options of rivers to fish in the Treasure state. Given Shields River lodge's great location, you have access to some or the best rivers Montana has to offer, and they are all different and unique. Yellowstone, Madison, Gallatin and the hidden gem the Shields are all close by and within easy striking distance. What does this mean for you? Want to hop in the drift boat and float the beautiful Paradise Valley, feel like wading a smaller river and throw big attractor patterns, want to look for some big browns in the lower river throwing big furry streamers? You can do all of this and more, with the Shields River Lodge and waste no time doing it.

• This Lodge is located in a prime area for fly fishing in Montana. What is even better is you would be hard pressed to find a prettier location than the Shields river valley. The panoramic views from the lodge are breathtaking. The jagged treeless peaks of the island Crazy mountain range to the east is truly spectacular and after a long day on the water there is nothing better than having a craft beer or glass of wine on the deck and unwind while taking in the 360 degree view. While you are there for the fishing, sometimes the true meaning of these trips is to get away from it all and recharge your soul. Shields River Lodge is the ideal retreat to do this.

• There are a lot of guides in Montana. Most are good and most will get you on fish. Then there are great guides, those special people that have a lifetime experience on the water, go the extra mile and can turn a good day into a spectacular one. At Shields River Lodge you don't have to worry about this as Greg Bricker and his guide team are some of the best in the state of Montana. They are patient, hard-working, instruction oriented and most importantly fishy. Some guides have that 6th sense to put you onto fish and these guys will "bird dog" fish for you no matter what the conditions are. Greg has been doing this a long time, has passed this knowledge onto his guide staff and he knows what it takes to make a great trip.

• Shields River Lodge is located a short walk to a wonderful trout stream. For those who cannot get enough time on the water with their guide, this stream is available every summer evening after dinner. What better way to end the day, then fishing a hatch a stone's throw from the lodge? It's just another reason we are so excited to be offering this lodge in our portfolio.

• The emphasis at Shields River Lodge is on great fly fishing. However, it doesn't hurt to also have luxury lodging and world-class amenities along with gourmet dining to round out a terrific fly fishing holiday. You can rest assure that you will get a good night's rest and be ready for the next day's fishing sortie, satiated with fine dining. Treat yourself, you deserve it…