The southern Louisiana marsh is the redfish capital of the world, vast and remote, covering roughly 20,000 square miles, more than any other state in the country. Only an hour from New Orleans, world renowned for famous dining, music and nightlife, this region includes low swamp lands, coastal marshlands and beaches, and barrier islands stretching from Texas to the Mississippi border. It's difficult to picture the scope of the marsh unless you fly over it. It's a massive labyrinth of shallow bays, canals and channels, bayous, and mud flats and home to a variety of gamefish including black drum, sheepshead, alligator gar, jack crevalle, and of course, an incredible and robust population of redfish.
Eleven's all-inclusive expeditions aboard the Outpost mothership are designed for anglers who want to maximize their time on the water and fish during the prime months of the year for huge bull reds. The Outpost program focuses on the late autumn and winter months—October through January.
Reservations & Rates
2021 Rates
• 3 nights and 3 days $15,600 for four people
• 4 nights and 4 days $20,800 for four people
• 5 nights and 5 days $26,000 for four people

2022 Rates
• 3 nights and 3 days $16,200 for four people
• 4 nights and 4 days $21,600 for four people
• 5 nights and 5 days $27,000 for four people

Inclusions
Your package at Outpost Mothership Louisiana includes: Water transfers from T-Irv's Marina to/from the Mothership, guided fishing if you choose the option to fish with Eleven guides, fishing equipment and flies, chef-prepared breakfast, lunch, après, dinner, alcoholic and non-alcoholic beverages.
Non-Inclusions
Not included in your package at Outpost Mothership Louisiana are: All round trip airfare from your hometown to New Orleans Airport or Houma airports, optional hotels in New Orleans or Houma area, ground transfers from area hotels or airports to T-Irv's Marina, fishing license, gratuities to crew and guides. If you choose to bring your own guides, you pay your own guides directly. Inshore coastal reef and offshore fishing are at an additional cost.
Travel Insurance
The Fly Shop® is not in the insurance business, but we recommend Travel Guard (AIG) and Global Rescue (IMG) coverage as a service with a desire to see your best interests protected. It is impossible to know when an unfortunate situation (loss of luggage, fly rods, illness in the family, or an accident) may occur. However, such things can and do happen, and this insurance can provide a means of recourse against non-refundable financial losses.

• Travel Insurance Information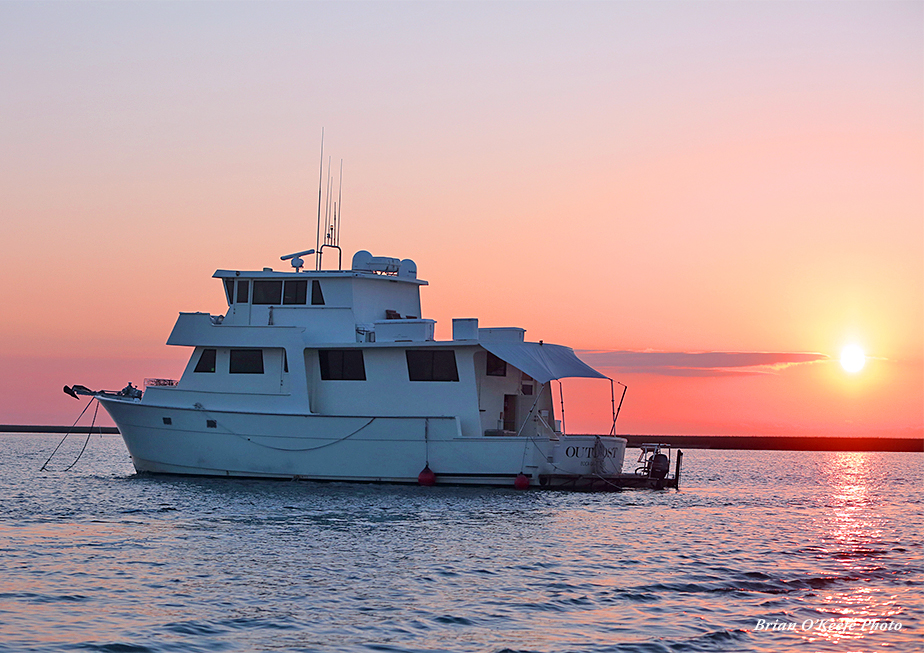 Seasons at Outpost Mothership Louisiana
The marshes are considered an excellent year-round fishery, but the Outpost program will focus on the late autumn and winter months - prime time for the large bull redfish, spectacular copper-colored monsters that will run 20 to 40+ pounds.

Louisiana has a mainly humid subtropical climate with long hot summers and short, mild winters. The southern location in the continent often brings a host of storms in spring and summer. Precipitation is ample, with
Read More
wet and dry seasons in the year. Louisiana's low latitudes and proximity to the Gulf chiefly influence the climate.

Climate:
Louisiana, the Bayou State, has an average elevation of only 30 meters above sea level and New Orleans, the lowest at 2.5 meters below sea level. The state has vast areas of coastal marshes and swamps, wet savannas, and the elevated regions of longleaf pine forest and bald cypress. The Mississippi River forms a large part of the eastern boundary. The geography has two divisions, the uplands in the north, and alluvial swamplands, marshlands, beaches, barrier islands on the coast. The Gulf of Mexico, Red and Ouachita rivers and other minor streams called bayous constitute the main water bodies.

Summers are hot and humid in Louisiana, with frequent afternoon thunderstorms that bring intense tropical downpours. The June to September period has average high temperatures above 90°F (32.2°C), while nights remain below 70°F (21.1°C). The high humidity and dew point make the heat feel like 120°F (48.9°C). Winters are mild in the south with day highs often above 66°F (18.9°C), while the north sees colder days below 59°F (15°C). Nights occasionally register below freezing, with average low temperatures between 37°F (2.8°C) in the north and 46°F (7.8°C) near the Gulf. Cold fronts from the north can push night temperatures below 20°F (-6.7°C) in the north. Spring and autumn are milder than the summer.

The average rainfall in Louisiana ranges from 48" in the north to 75" in the south. Rainfall occurs throughout the year, with a predominantly wet season from April to September and the dry season from October to March. October is the driest month, while May is the wettest, with even 20" (508mm) during the month and up to 10" (254mm) in a single day.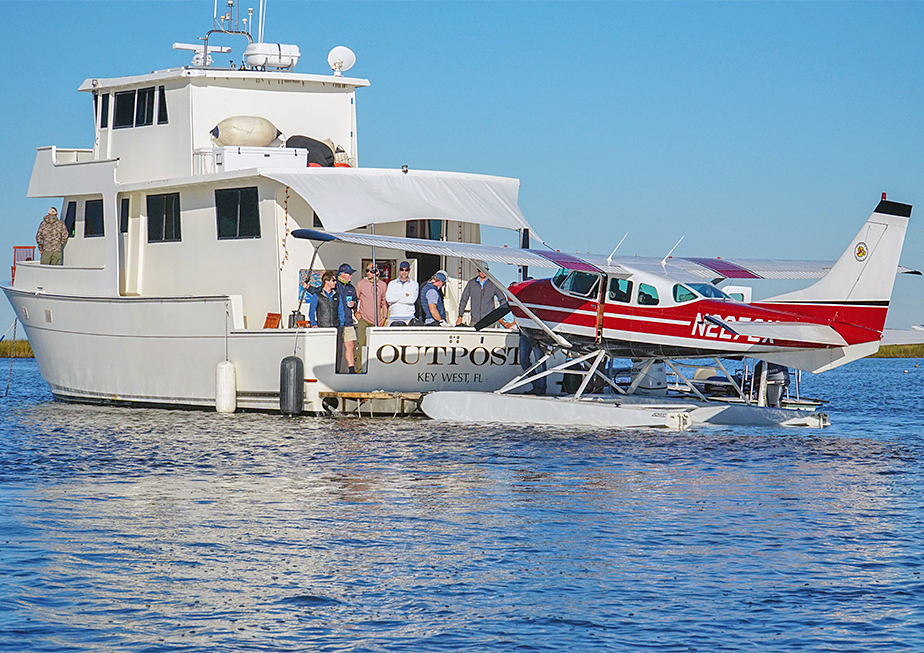 Getting to Outpost Mothership Louisiana
Most arrivals are by private or commercial flights into New Orleans Airport, which is serviced by all major airlines. Houma airport is also an option and ideal for private aircraft. The Fly Shop can assist with your air travel planning.

Once you arrive at the New Orleans Airport or Houma Airport, you can pick up a rental car, or have Eleven Travel Team pre-arrange a private ground transfer to your area hotel, or directly to the T-Irv's Marina.
Read More
Day 1
The following morning you'll drive from New Orleans to the T-Irv's Marina just south of Dulac, LA. If you choose this option we will send you a detailed map on how to arrive. You will want to be at T-Irv's Marina before 9 am in order to have a full days fishing. You will want to be in your fishing gear, ready to get on the water as soon as you arrive at the marina. The mothership staff will load your luggage to take directly to the ship while you and your partner will jump in a skiff with your guide and charge out for a full day of fishing. In the evening you'll return to the mothership for cocktails, après, and a gourmet dinner.

Louisiana Anchorages
• A 90-minute drive from New Orleans Airport to T-Irv's Marina.
• From Houma, 35-minute drive to T-Irv's Marina.
• From T-Irv's Marina to Mothership, all anchorages are within 45 minutes for water transfer.

Days 2 - 4
Each day begins with a chef prepared breakfast, and a flexible fishing start time. After breakfast, anglers head out on the skiffs to chase redfish and other species in the shallow flats, bays and marsh. Your guide will have your skiff's cooler stocked with hearty lunches, water and drinks. You can choose a chef's special lunch back at the ship if you wish, or eat on the water aboard the skiff. At the end of the fishing day, you'll return to the comfort of the mothership for a relaxing evening with friends, feasting on the chef's gourmet dinners.

Day 5
After another delicious breakfast and a morning of guided fishing, you'll water transfer back to the Coco Marina, arriving mid morning. The final leg of you journey is your ground transfer to the airport, or a hotel and an evening in the fabulous city of New Orleans.

Note
Longer trips are available, and all itineraries are customized to your wants and needs.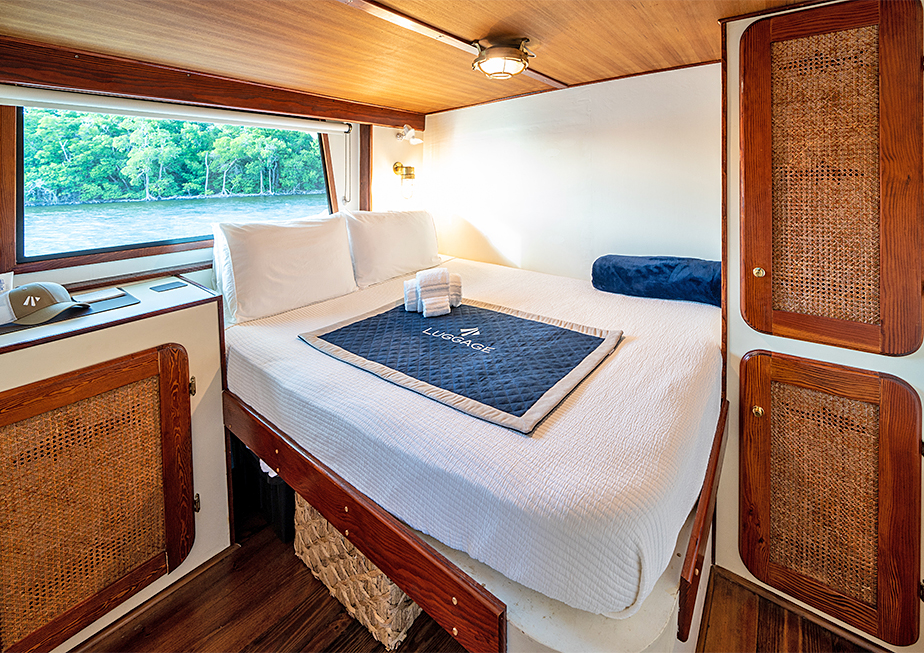 Lodging at Outpost Mothership Louisiana
The 61' Hatteras Outpost mothership takes the live-aboard lifestyle to a new level. While being out on the flats always takes top billing, you'll relax, eat, drink, and sleep in unmatched comfort aboard the mothership. And the key here is the outstanding crew—professional captain, gourmet chef, plus superior guides. Your private chef prepares creative fresh island cuisine each day on board, and packs your coolers with savory lunches, snacks, and ice cold drinks to keep your energy up when out on the skiffs. Or, you can choose to return to the ship for lunch and a midday
Read More
break. At the end of the day, you'll share your fishing tales while sipping your favorite beverage and watching the sunset. For dinner you'll enjoy artistic presentations of just-caught seafood and fresh produce topped off by a sumptuous dessert, and sleep peacefully in the well-appointed staterooms.

Mothership details
• 61′ Hatteras
• Capacity is four guests, with no mixing of groups
• Four guest staterooms including four single staterooms with two shared bathrooms
• Fully equipped Glide and Hell's Bay skiffs
• Spacious living room/bar and kitchen with satellite TV
• Air-conditioning throughout the vessel
• Guided fishing with two anglers per guide

Complete with a spacious bar, living area, and four well-appointed staterooms, the Outpost mothership is the ultimate live aboard vessel. The ship's private chef keeps anglers well fed with breakfast to order in the morning and gourmet seafood feasts at night.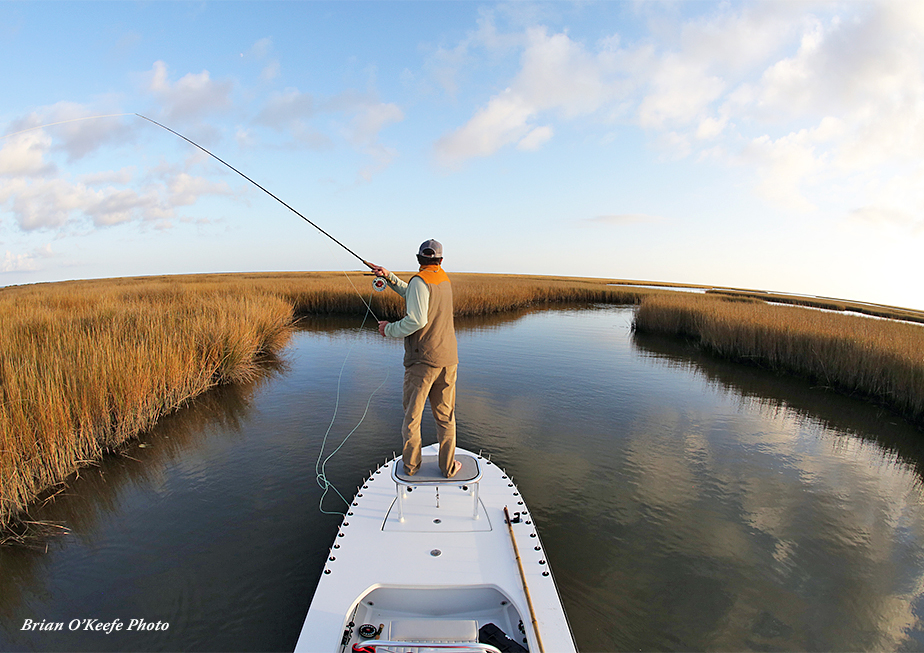 Fishing at Outpost Mothership Louisiana
The Louisiana coastal marshes and swamps make up over forty percent of the lower forty-eight states wetlands. This is a unique and resilient saltwater fishery. On your way out to the Mothership you'll be greeted by a rich expansive landscape that is vibrant and teeming with life. Around every bend you encounter redfish habitat; quiet bays, meandering creeks, ponds and channels, where plentiful redfish forage for food in shallow water.
Read More
Prime time for those huge bull reds—late fall and winter season—a season that has grown in popularity, yet there is still very little pressure, which makes for happy aggressive fish. All of the fishing is done from fully-outfitted customized flats skiffs made to get in skinny water, and all of the captains are highly skilled fly fishing guides with years of guiding experience. No wading here as most of the flats are soft mud. Yet everything is super visual as your professional guide leads you on the hunt for reds cruising in as little as four to five inches of water. It's an amazing sight, spotting a hug single pushing a wake, seeing small pods tailing, and large schools stirring up nervous water.

And aside from being happy and aggressive, redfish don't have great vision. Most casts are between 10 and 40 feet, which makes this ideal for fly anglers of all ability levels. The key is a quick accurate shot. One back cast, put it on their nose and be ready to set the hook. Then hold on for a serious battle. Landing a bull red over 20 pounds, over 30, over 40, is a possibility any day. And we're not just talking about casting shrimp, crab or baitfish patterns. These big boys will also crush a surface popper.

Redfish are for sure the main target, but this spectacular fishery also features black drum and sheepshead on the shallow flats. Black drum are brutes, and sheepshead are wily adversaries. It's also possible to run into jacks and speckled trout in deeper holes and canals.

The guides also fish the coastal waters and out around the rigs and reefs for amberjack, red snapper, cobia, mackerel, grouper, and tarpon, and offshore for tuna, Dorado, wahoo and marlin. The Louisiana coast is truly one of the most diverse fisheries in the world.

And there's no such thing as an 8-to-4 routine here. You can fish sunrise to sunset, all the while knowing the Mothership awaits your return, ready to refresh and recharge you.

Outpost Guides
The Outpost mothership guides are skilled professionals with years of experience guiding fly rod anglers. They understand fishing with the tides, quietly positioning the skiff for the best presentation possible. They have keen eyesight, spotting fish well in the distance, and work with anglers to make a good cast, whatever the situation. If you're new to this style of fishing, they will work with you to advance your skills, and get you hooked up. For you seasoned tarpon veterans, these guides run top quality skiffs, know their trade, and spend hundreds of days on the water every year. They understand the Louisiana marshes fishing as well as the rivers, bays and outside flats, and work together to bring you and your friends the best fishing possible.
What Makes This Destination Special and Unique?
• Easy Fishing: Redfish are aggressive eaters and don't have great vision. Most casts are between 10 and 40 feet, which makes this ideal for fly anglers of all ability levels. One back cast, put it on their nose, put it on their nose and set the hook. This is an ideal fishery for those anglers looking for easy fishing, high catch rates and fish that regularly push the 20, 30 and even 40 pound mark!

• Mobility is Key: The advantage of a mothership program is mobility. Outpost Mothership is a mobile fishing lodge and has easy and quick access to miles of quiet bays, meandering creeks, ponds and channels, where plentiful redfish forage for food in shallow water. Run times to the and from the daily fishing venues are kept short and that means more time fishing, and less time boat riding.

• Remote Angling: The Outpost mothership offers remote angling opportunities in the Louisiana bayou, a vast area covering roughly 20,000 square miles of shallow bays, canals and channels, bayous, and mud flats that sees little angling pressure. Anglers that like the idea of fishing true wilderness owe it to themselves to fish the "Redfish Bayous of Louisiana".

• Private Accommodations: All anglers are accommodated in single occupancy rooms. No need to share a room with another guest, and no need to bring ear plugs to insure a good night's sleep. You'll get a good night's rest and be fresh each morning, ready for a full day's fishing.

• No Passport Required: Fishing with the Outpost Mothership in the Louisiana Bayous is an international world-class saltwater fly fishery without ever having to leave the country – only an hour from New Orleans, world renowned for famous dining, music and nightlife,. Easy travel, no language barriers, no passport required – this is a great trip for anglers that don't want to travel internationally but want to get away from it all.