The North Platte River watershed is revered as one of the most iconic fly fishing destinations in North America, as well as the world. Flowing through expansive canyons and sloping valleys, its tributaries, including Brush Creek, French Creek, and the Encampment River, French Creek Sportsmen's Club offers over 20 miles of pristine, exclusive private water accessible by way of rafts, drift boats, or wading.
French Creek Sportsmen's Club is part of Brush Creek Lodge, a collection of all-inclusive guest ranches encompassing 30,000 acres in Southern Wyoming. These guest ranches uphold the past western ranch heritage and tradition while continuing to operate as authentic cattle ranches. They strive to enrich this legacy while working tirelessly to make sure the lands are well cared for and at the same time enhanced for future generations.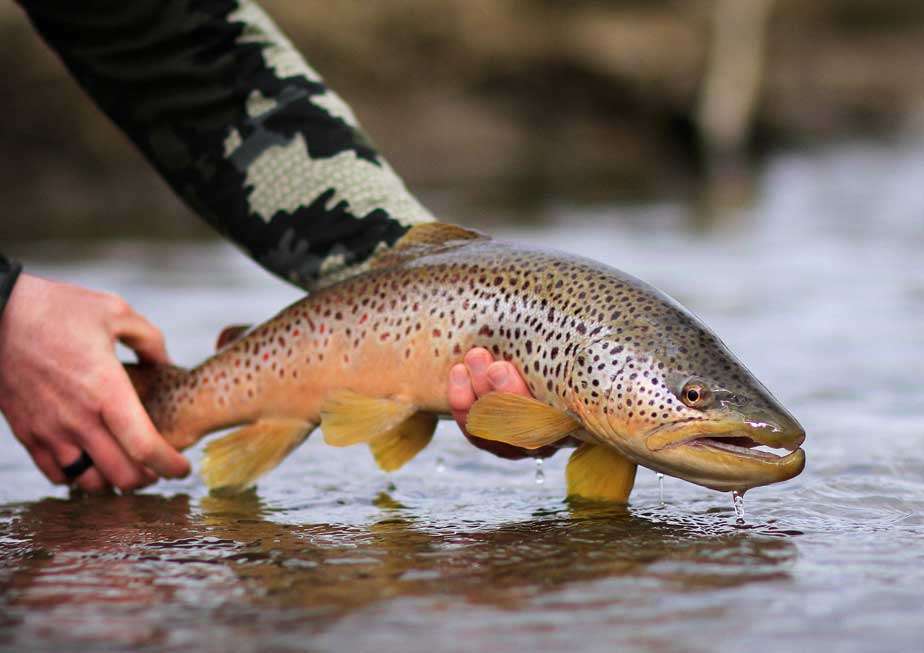 Reservations & Rates
Prices are based on time of year, accommodation requested, and availability.

Prices start at $2,000/person/night for the first 4 guests and $1,250 for each additional guest.
• Upland bird hunts are $500/half day
• Waterfowl hunts are $300/half day
Inclusions
Included in your stay at French Creek Sportsmen's Club is lodging, and guide service, one guide per each 2 anglers as well as transportation to and from the rivers. Airport shuttle from Saratoga, all Brush Creek crafted spirits, beer and wine and non-alcoholic beverages. It also includes additional activities including but not limited to shooting, ammo for shooting, archery range, hiking, horseback riding, bicycling, Ranger adventures and other leisure pursuits.
Non-Inclusions
Not Included in your stay at French Creek Sportsmen's Club is airfare, fishing/hunting license, laundry service, upland, duck, driven bird or big game hunts (in season), ATV adventures, Golf, Spa or other recreation experiences. Transportation to the lodge, if not flying to Saratoga. Airport pickup and delivery is available as an optional service. Rates are subject to a 23% ranch fee. Ranch fee covers all applicable taxes and Gratuities as there is a no tipping policy at the ranch.
Travel Insurance
The Fly Shop® is not in the insurance business, but we recommend Travel Guard (AIG) and Global Rescue (IMG) coverage as a service with a desire to see your best interests protected. It is impossible to know when an unfortunate situation (loss of luggage, fly rods, illness in the family, or an accident) may occur. However, such things can and do happen, and this insurance can provide a means of recourse against non-refundable financial losses.

• Travel Insurance Information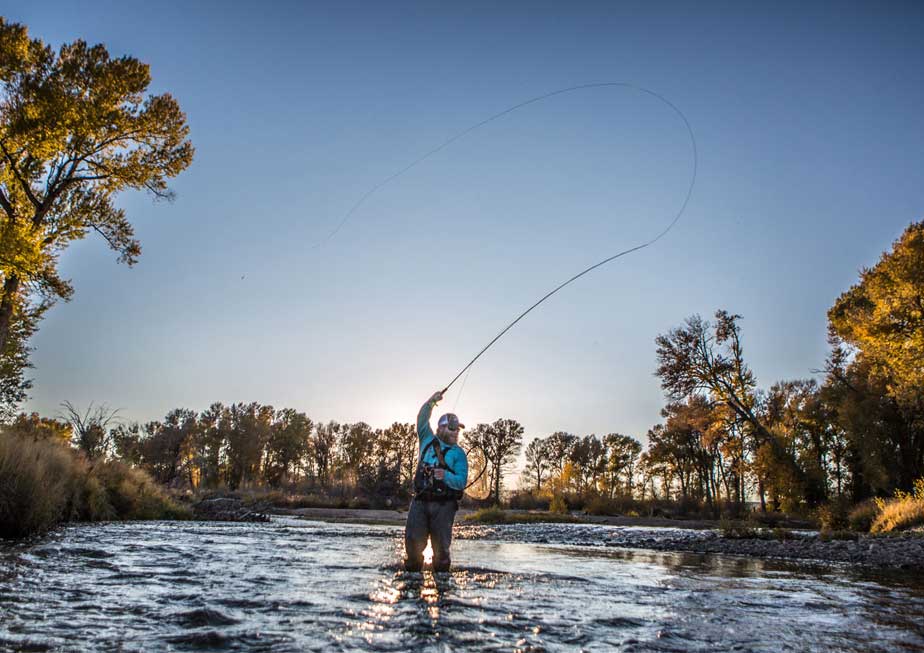 Seasons at French Creek Sportsmen's Club
With such a variety of fisheries and drastic changes in elevation, you can always find a productive spot somewhere at any given time of the year. That being said, French Creek Sportsmen's Club has several windows of time throughout the season that can be particularly good on the water. Their best time of year is usually late June or July, and late August through October.
Read More
Mid-March – Mid May
Once May rolls around, the temperatures warm to the point that the high-country snow starts melting which is the start of runoff season. The word "runoff" typically scares most anglers, however, in the Platte River Valley they fish right through runoff. The majority of the fishing is done via boat as wading in big water isn't always feasible. Yes, the water might be high and off-color, but they target the banks and slower stretches and use brightly colored streamers and large nymphs. This is the time of year you can witness the prolific Salmon Fly hatch on the North Platte. These massive aquatic insects hatch for up to two weeks and make up a huge portion of a trout's yearly protein intake. This time of year, is always the most productive time of year on all of the still water fisheries. Runoff typically peaks during the first week of June, for the remainder of the month water levels drop and clarity improves and we see more and more hatches that bring the trout's attention to the surface such as Caddis, Yellow Sallies, PMD's and the famed Green Drakes in late June. Mid to late June is a very versatile time to fish the Valley with float and wade options and the ability to throw nymphs, dries, and streamers within any given day.

Early July – Early August
Mid-July to mid-August, is the heat of the summer. This often causes water temperatures to rise and fishing to slow down. On a low water year, fishing gets restricted to the mornings only, once water temperatures reach 68 degrees, they stop fishing in order to decrease the amount of stress put on the fishery. With that being said, they still see some very productive fishing during this month. Tricos start to hatch in prolific proportions on the North Platte and Encampment and terrestrials (Hoppers, Beetles, Ants) become a staple in the trout's diet. A typical day starts with the Trico Spinner Fall where hundreds of fish can be focused on the surface offering technical, but rewarding, dry-fly fishing. Float fishing becomes less viable as water levels drop and we start to focus mainly on wade fishing. This is a great time of year to escape the heat and head to the high country to find cooler water and more active fish.

Mid-August – Late September
This is by far the most consistent time period to fish the Valley. Once mid-August rolls around, water temps start to drop and fishing starts to really heat up. The Trico hatch usually starts dwindling down by early to mid-September and you will start seeing more Blue-Winged Olives (BWO). Terrestrials typically stick around until late September. Hopper-dropper rigs are the go-to this time of year and they focus mainly on wade fishing the upper stretches of the North Platte and all tributaries. Fall fishing is hard to beat at French Creek Sportsmen's Club.

October – Late November
Once October hits, the only variable there is to worry about is the weather. Fishing can remain productive until the water freezes. Brown Trout spawn in the fall which offers a great period of fishing as they prepare for the spawn and look for big meals, thus offering some excellent streamer fishing. All fish sense the colder temperatures and know winter is around the corner, causing them to feed heavily. Aside from an errant snowstorm, early to mid-October typically offers mild weather with cold nights and daytime highs averaging in the 60's. Once we hit mid-October, you start rolling the dice with Mother Nature. We say that this time of year "isn't for the faint of heart" but it's some of the guides and locals favorite time of year to fish.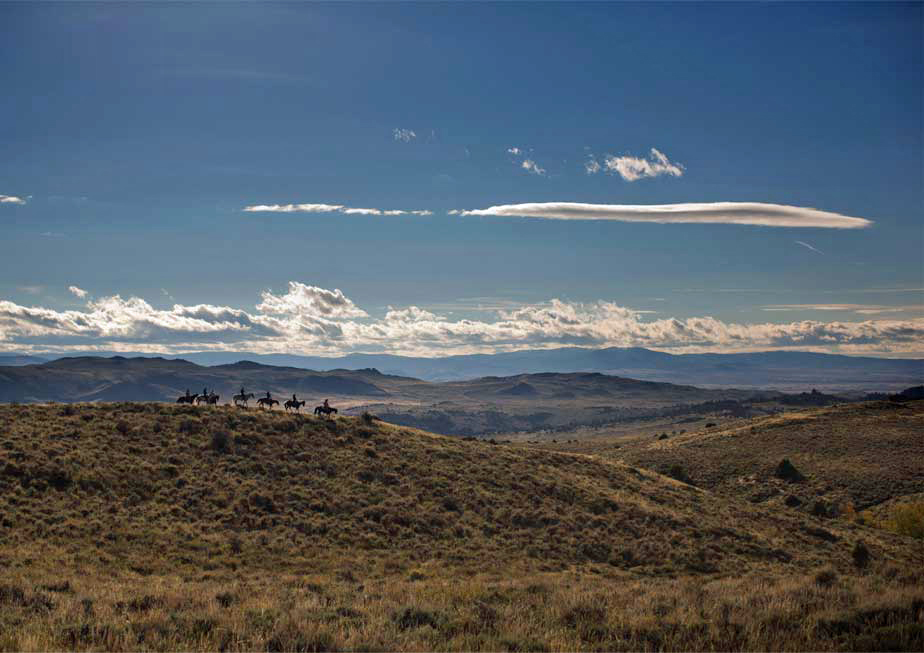 Getting to French Creek Sportsmen's Club
Most guests heading to French Creek Sportsmen's Club will fly into Laramie Regional Airport (LAR), Cheyenne Regional Airport (KCYS) or Denver (DEN), rent a car a drive to the lodge.

Airport shuttle service can be arranged through an outside service for an additional fee. To avoid getting lost, we caution you: DO NOT rely on your GPS or phone mapping pins. Please follow the directions as presented in our pre trip.
Read More
Personal Aircraft/Charter Flight:
If you have your own plane, or decide to charter a flight into Saratoga, Shively Field Airport (KSAA), French Sportsman's Club provides complimentary shuttle service to and from the airport.

Driving: Address 1016 County Road 660 Saratoga, WY 82331
From Laramie Regional Airport (LAR) Approximately 80 miles (1.5 Hours)
From Cheyenne Regional Airport (KCYS) Approximately 180 Miles (3 hours)
From Denver International Airport (DEN) Via E-470 N Approximately 215 miles (3.75 Hours)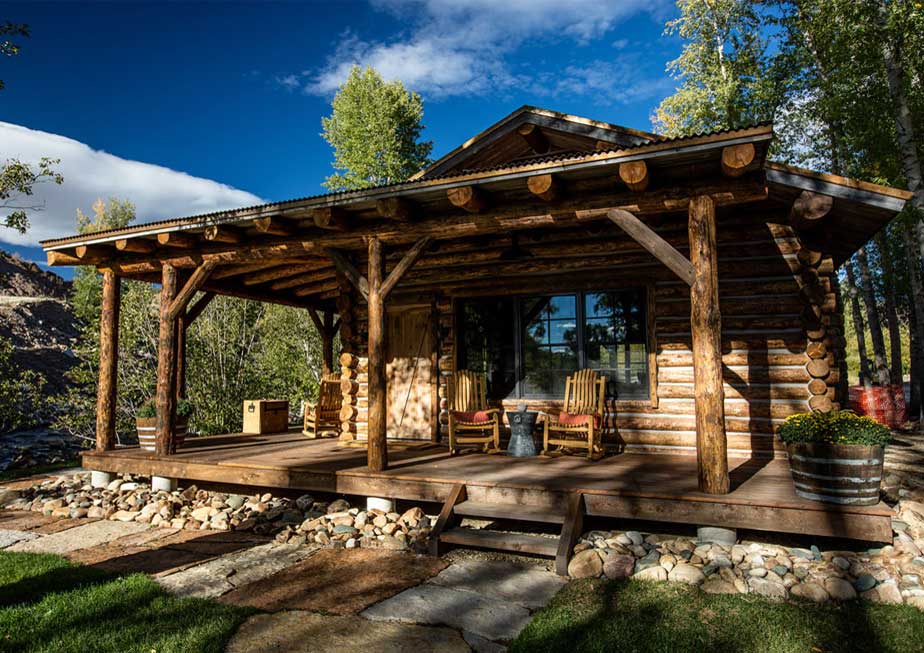 Lodging at French Creek Sportsmen's Club
French Creek Sportsmen's Club can accommodate 12 guests maximum at one time in one of four private luxury log cabins. The purposely engineered small capacity, along with the lodge and surrounding property creates an intimate atmosphere; while still maintain a feeling of privacy. Fully serviced with the comforts of a concierge, twice-daily housekeeping, and wireless internet, these cabins bring the wilderness of the western frontier to your doorstep. The "Man Cave" Clubhouse, perched on the banks of French Creek, features plush relaxed living comforts, a dining
Read More
room, stocked bar and refreshments, billiards, large screen TV, book collection and outdoor dining, patios and firepit.

Millie's Cabin:
Fully serviced with the comforts of a concierge, twice-daily housekeeping, and wireless internet, experience the privacy of a one-bedroom cabin accented with luxurious Western decor. An inviting, screened front porch with its own dining and seating area leads into the plush, yet rugged, living room packed with a kitchen, breakfast nook, and lounging area surrounded by a rustic fireplace. Off the living room is a cozy bedroom with luxury bedding appointments, leading into the private bathroom which features a glass and rustic slate-tile shower.

Jenkin's Cabin "Suite":
Furnished with 2 Queen/Twin Bunk Beds, perfect for a crew of hunting or fly fishing enthusiasts, this four-bed cabin offers the modern comforts of a concierge, twice-daily housekeeping, and wireless internet. The covered front porch laid with a comfortable seating arrangement that opens right to the neighboring creek. Designed with privacy in mind, the double-sink bathroom contains separate rooms for both the toilet and rustic slate-tile shower.

Arcus Cabin "Suite":
With sleeping capacity of up to four people, this space features two queen beds and a double sink bathroom, with separate rooms for both the toilet and slate-tile shower. The covered front porch provides added seating options, opening up onto the neighboring creek and bringing the wilderness of the Wyoming frontier to your doorstep. Modern comforts like a concierge, wireless internet, and twice-daily housekeeping are provided as well.

Bennet Cabin "Suite":
Right next to the Barcus Cabin Suite, the Bennet Cabin Suite double-queen bunk bed offers a sleeping capacity of up to four people. The double-sink bathroom provides extra privacy with separate rooms for both the toilet and slate-tile shower. Comforts like a concierge, wireless internet, and twice-a-day housekeeping provide conveniences to help you enjoy your stay. The covered front porch provides added seating options, opening up onto the neighboring creek and bringing the wilderness of the Western frontier to your doorstep.

Clubhouse:
The Clubhouse is the spot to relax, enjoy an adult beverage and revel in the day's adventures on the ranch. It features a spacious dining and entertainment patio with a fire pit and breathtaking views of French Creek and the surrounding area. The lodge can also arrange customized meals for days in the field and stream dining, gourmet picnics, and other al fresco dining opportunities.

Covey Dining Room:
Our artfully prepared menus are delivered with rustic preparation and upscale touches. These meals are complemented by a world-class selection of fine wines, premium beers, and spirits – all sourced from local breweries and distilleries.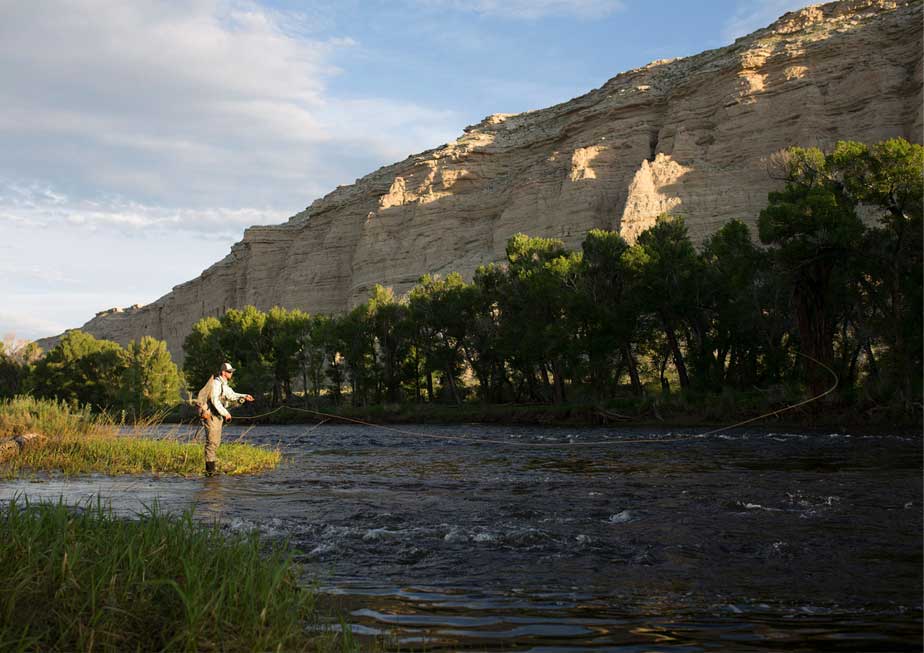 Fishing at French Creek Sportsmen's Club
French Creek Sportsmen's Club is positioned at the headwaters of the North Platte River, which is fed by snowmelt from our neighboring Snowy Mountain Range and Sierra Madre Range. This Blue-Ribbon freestone fishery and its major tributaries, offer float and wade fishing opportunities on some of the healthiest trout ecosystems in the world as it flows through a spectrum of stunning Wyoming landscapes. From steep rocky canyons to flat rolling sagebrush hills, and everything in between, even the most traveled anglers seldom get to experience such variety of
Read More
landscape and fishing scenario within a small watershed. Prolific insect hatches throughout the year, thousands of trout per river mile - over 20 miles of private water across 30,000 acres of ranch land accessible by foot and boat - make this a destination fishery for any serious trout angler.

North Platte River:
The North Platte courses steadfastly through steep pine tree-covered canyons with dramatic rock formations, and anglers across the nation seeking a world-class fishing experience visit it for its incredibly healthy ecosystem. The word Platte is French for "Flat River." In its upper reaches, the North Platte River, a freestone river, meaning it is a free-flowing, is the ideal fishing environment without the presence of dams. Brush Creek Ranch has exclusive access to over 10 miles of world-class private water on the Upper North Platte. Additionally, the guides fish and use public put-ins and take-outs for floats, making the angling opportunities virtually endless

Encampment River:
The Encampment River is one of the most notable tributaries of the North Platte River. It flows for 44.7 miles and originates just south of the Colorado/Wyoming border. Its upper reaches flow through the Sierra Madre National Forest, then enter the Encampment River Wilderness area. The majority of the river flows through public land throughout its course. The only private water is found on the lower 1/3 of the river. Brush Creek Ranch owns two parcels of land along the Encampment, offering over 3 miles of exclusive river access for both wade and float trips. This river is known for its abundant and healthy bug and fish populations, offering some of the largest fish in the valley. The Green Drake hatch is the most notable hatch, and when it appears in late June or early July offers phenomenal dry fly-fishing.

Brush Creek:
Brush Creek is a tributary of the North Platte River. It starts out in 2 different forks high in the Medicine Bow National Forest, the South Fork and North Fork. Throughout its higher reaches you can find native cutthroat trout, brook trout and even an occasional grayling. Once it reaches the Ranch property, the creek has significant size and you will see mainly brown trout throughout this stretch, with occasional brook trout and rainbow trout. A large part of the Ranch's Stewardship Plan revolves around Brush Creek and restoring it to its historic condition. The Creek offers great wild trout fishing for anglers of all skill levels.

Other small streams, lakes and ponds:
Elk Hollow Creek and French Creek are a couple of other private streams within the property that are a great addition to the collection of fisheries they provide for their guests. Completely private and only accessible to guests at the Lodge, there is no competition and it is great place for the beginner angler to get into fly fishing. Seven ponds ranging in size from ½ acre to 20 acres are stocked full of rainbow, brown, brook, cutthroat and tiger trout are on the property and always available to fish if you want to make a few casts after dinner or spend an afternoon or day hitting them all.
What Makes This Destination Special and Unique?
• PRIVATE WATER - French Creek Sportsmen's Club has exclusive access to 20 miles of private water which includes over 10 miles of the North Platte, 4 miles of Brush Creek and 2 miles of Elk Creek along with other small North Platte tributaries within the ranch complex of 30,000 acres. With the growing demand on many of our favorite western rivers, you won't have to compete with other anglers for first access to your favorite stretch of river. It is all yours to enjoy, so take your time and get out and fish when the fishing is good.

• FISHING OPTIONS - Tons of private access, along with many popular publicly accessible boat launches and accesses on the North Platte and the Encampment River, French Creek Sportsmen's Club provides anglers with endless options for fly fishing located within a short drive from the lodge. If you want to walk and wade a small mountain creek or a North Platte tributary on the property, drift down the river casting hoppers to the bank, you don't have to spend your entire stay doing the same thing. They have lots of options for you to mix up your fishing style at FCSC.

• FAMILY ADVENTURE - With access to a world class shooting facility, duck and upland hunts, ATV adventures, guided ranger tours, bicycling, horseback riding and hiking, guests have a chance to mix up their days at the lodge with a variety of outdoor activities. With a distillery, brewery and a creamery located within the lodge complex you can hang inside and sample wine, beer and cheese while enjoying the beauty of the Wyoming countryside. Bring your wife, your husband and your kids and you can make your Fly fishing trip a Vacation the whole family can enjoy. While the fishing is the main event of your stay, everybody loves to have options when it comes to planning a fly fishing trip out west.

• GUIDES – French Creek guides are a collection of hard core, passionate anglers and outdoorsmen that spend their days off doing the same thing they do while working at the Lodge, chasing fish with their fly rods, birds with their dogs or Elk in the high country with a bow or rifle. This isn't a crew of local college kids working for the summer; this is their life work and avocation. All of the guides have been with the lodge at least 6 seasons, so they know the waters and all the little nuances of the property and the local fisheries. Professionalism, knowledgeable, passionate, great coaches, easy going and fun to be around and spend the day with is what you can expect out of the guides at French Creek Sportsmen's Club. You'll leave the Club a better angler then when you arrived with new found friends.